Emergency-Clear Clearing Barrel
Emergency-Clear
Emergency-Clear is a compact unloading station,for situations where a more portable version of the Rifle-Clear allowing the safe clearing of all pistol and rifle rounds up to and including 50 BMG Api,indeed the unit has been tested to 14.5*114 Api which is twice the power of a 50 BMG Api.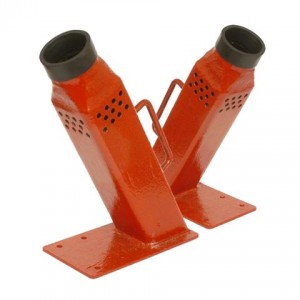 Emergency-Clear safety beyond 50 BMG Api
Indeed weighing only 24lbs the unit comes with a integral handle allowing the easy transportation to where the unit is required.
However if the Emergency-Clear can remain in one place it comes pre drilled for wall or bench mounting, though for operational use it does not require to be bolted down.
With the tough finish Emergency-Clear can be mounted out doors without any additional weather protection whether you are posted to the Deserts or indeed North of the  Arctic Circle.
Specification
Height                16 Inches
Depth                 13 Inches
Width                  6 Inches (Base)
Tube                    4 Inches Square
Weight                26 lbs
Caliber               All pistol and rifle rounds up to and including 50 BMG Api
$699-00 inc Shipping Lower 48 States
We accept Government Purchase Orders
Questions email sales@clearingbarrels.com
Call 1-866-247-0241
Or leave a comment below We will get back to you same day