Rifle-Clear Clearing Barrel
Rifle-Clear Clearing Barrel
Rifle-Clear is the free standing clearing barrel and one of our first models , designed to be portable it comes with integral carrying  handle and indeed allows for positioning  the rifle  bullet trap where required for firearms loading and unloading.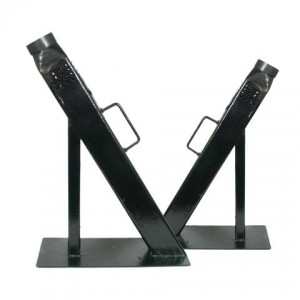 Rifle-Clear Floor Standing Clearing Barrel
The Rifle-Clear is safe to use with all firearms up to and including 50BMG APi
If the unit is to be placed in a permenant position it can be bolted to the floor as it comes pre drilled.
The coating on the Rifle-Clear means that it does not require any weather protection despite the extremes of local weather where you are.
Specification for the Rifle-Clear Bullet Trap
Height 30 inches
Depth  26 inches (base)
Width  9 inches (Base)
Tube    4″ square
Caliber all handgun and rifle to 50BMG API
Each unit is good for 50 rounds prior to replacement (50 BMG 5 rounds)
Click Here for Rifle-Clear  Test Data
Rifle-Clear $849-00 inc shipping lower 48 States
We Accept Purchase Orders
email sales@clearingbarrels.com to order
questions email sales@clearingbarrels.com
Call 1-866-247-0241